Pipsqueak Web Designs provides all your needs for your online presence!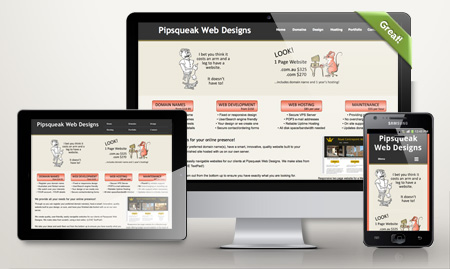 Through us you can register your preferred domain name(s), have a smart, innovative, quality website built to your design, or ours, and have your finished site hosted with a 100% Australian owned hosting business that provides 'real person 24/7 phone and online support'.
We create quality, secure, responsive, user-friendly, easily navigable websites for our clients at Pipsqueak Web Designs. We take your ideas and work them out from the bottom up to ensure you have exactly what you are looking for.
All websites we build are responsive and secure.
Responsive web design is creating web pages that look good on all devices, because a responsive web design will automatically adjust for different screen sizes. That means your website will look good to anyone looking at it on a laptop, a tablet or a mobile phone.
For websites to be secure, an SSL certificate is installed on the server to provide extra security to any communications passed between a browser and a server. HTTPS instead of HTTP in the address tells users that data transmitted between the site and the web browser is encrypted and secure.
Contact us for an obligation free quote!
0455 322 277
---
Our Portfolio